BloodDoll Lulu
Member Since: Nov 5, 2007
The BloodDoll in 1st Life
Last Login: Apr 12, 2010
aka BloodDoll Lulu in 2nd Life

Female
29 years old
Chi-town
United States
BloodDoll Lulu's Latest Second Life Photos (25)
First Life Name: The BloodDoll
About My First Life
The original BloodDoll, not that thieving ***** from WoW and NOW SL sadly and also other games pretending to be me. I'm Half Japanese, half not Japanese. I pretty much, almost dead-on look like my avatar. I make weapons in SL when I am bored. Really high detail (for real), usually original, although I've been doing some other stuff lately and never scripted sadly. I also understand how guns are actually built if I had one given to me on my real job to create, and I have a huge collection, so you wouldn't see anything too silly from me. I try to incorporate reality into fantasy aspects (if any) with them. I also work freelance in the game industry, and play guitar. Everything else sucks or is private. Also recently the person that follows me all over the net pretending to be me for some stupid reason and stealing my pictures, music, art, and exact spelling with all the right capital letters is NOT me. There's a new one spelling their name like me, that isn't me - BloodDoll Gothly. Damn these people can't get their own identities.

Other than that, I have that disassociated quietness that comes from being a truly obsessive hobbyist. And I do like SL obviously, but I've pretty much seen or experienced every aspect of it and just kind of hang out in there because I'm still mildly interested in it. Maybe I'm looking for that one great opportunity. I'm actually really truly friendly, though when re-reading what I just wrote above, I sure don't sound like it. I am though.
BloodDoll Lulu's 1st Life Details
Name:
The BloodDoll
Birthday:
Dec 7, 1984
Occupation:
Game and Entertainment Industry
What I Love:
This is answered in my Favorite Movies in the hobbies category

Movies (some) because this that category below cut me off: THE DARK KNIGHT, Stand Alone Complex: Solid State Society, Bladerunner, The Matrix, The Prestige, Interview With The Vampire, The Illusionist, 300, Nightmare Before Christmas, Collateral, Fight Club, Equilibrium, Batman Begins, Machinist, Sleepy Hollow, Se7en, Star Wars, -Empire/Sith, Pirates of The Caribbean (both), Legend, Gladiator, Vanilla Sky, Two-Lane Blacktop, Master & Commander, Underworld 2, All the Die Hards, Back to The Future, 1 & 2, Inside Man, Heat, bank robbing films in general, House of 1000 Corpses, Taxi Driver,The Bourne Ultimatum, Hellboy 2, 30 Days of Night, Night At The Museum, Sin City,Swordfish & various Anime - Death Note!(I hate most of the popular stuff though) and more I can think of. I see almost every film. Too much to list.

I like the HBO series True Blood too. Finally something about vampires that isn't linked to that lame White Wolf stuff. BTW my name has nothing to do with White Wolf's "vampire" game. In fact the nickname for me, existed WAY before White Wolf did. I also spell it differently, and as one word. I know I keep mentioning that, but people keep not reading it!

PC gaming
PS3
What I Hate:
TEXTURE THIEVES. Their day is coming.
Insomnia

I hate White Wolf

I HATE people who say they are going to do something for me, then never do it. Just don't say it if you don't have any intentions.
I also HATE ungrateful people that I do things for. SL is so full of fake, two faced, selfish people.
People who sit outside their stores with their friends and or have camping chairs. It's hard to buy some stuff like that. I don't like people watching me shop. Just like shopping for real one some person at the store comes up to you bothering you to help. Go away!

Grouping and raids in mmorpgs. I will change this.

Little exclusive groups of friends nonsense


Favorite Sites:
http://www.unrealtournament3.com
http://www.stockingirl.com
http://www.darkhorizons.com
http://gog.com
http://www.worldscollide.com/
Playlist

Official Cleric Gun Kata 2 Video 2008 (youtube)
Official Cleric Gun Kata 2 Video 2008 HIGHER QUALITY & BETTER
Official Cleric Gun Kata Demo 2 from BloodDoll Lulu on Vimeo.>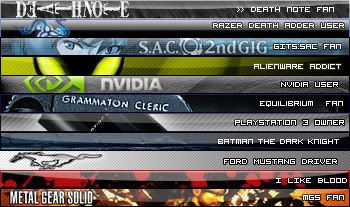 My Guns/Gun Kata Animation Demo

Japanese Godilla owns American Godzilla


Second Life Name: BloodDoll Lulu
Rez Date: 7/9/2005
My Second Life Resume
SL is a great world where people steal my identity down to how I spell my nickname and what capital letters I use, even the same font. It's a great game. Love those identity thieves =( Oh and the texture ones too. I do work on games, pretty obvious!


oh I make guns and a whole lot more that I haven't released yet (other than the guns.) I do this when I'm bored though I do have a big amount of things coming soon if time permits.
BloodDoll Lulu's Interests / Favorites
| | |
| --- | --- |
| Favorite Music: | Everything, mostly female singers though. More so, goth, metal, industrial, violindustrial, trance, |
| Favorite Movies: | THE DARK KNIGHT and then check what I like for a list of some others |
| Favorite Books: | Art, Horror, Sci-Fi/cyberpunk, |
| Favorite TV Shows: | Charmed, TrueBlood is great, but I MOSTLY like MOVIES more. I also like AMC (fans will know) |
| Favorite Foods: | Blood |
| Favorite Animals: | most |
| Favorite Sports: | martial arts, running and the online FPS sport - deathmatch |
| Favorite Places: | peaceful ones |
| Favorite Celebrities: | the one in the mirror |
| Hobbies: | 3d Modeler, Level Design, Gaming , Martial Arts, Guitar, shopping, collecting stockings / boots |
BloodDoll Lulu's Comments (38) [Post]
Posted By Myrlochar
Jun 9, 2009 - 4:59 pm
HEY!! WHATS UP!!
Posted By Ozz
Mar 10, 2009 - 10:18 pm

Get to the Choppa!!
Posted By Pounamu Kohime
Dec 30, 2008 - 9:20 pm
happy NY lulu
Posted By Tim1979
Nov 4, 2008 - 10:41 pm
Hey, long time no speak. How have you been?
Posted By Myrlochar
Nov 4, 2008 - 4:33 am
Luv ya page!!!
Posted By Autumn Foxx
Oct 31, 2008 - 3:26 pm

Posted By BloodDoll Lulu
Oct 9, 2008 - 6:35 pm
Hey, Actually I did go to the store to check it out, it just happened later... about 4am. Before that, when you messaged, I was working on my weapons in Maya so SL eventually logged me out, and I didn't even notice it. I should put that busy status up, but people send me stuff, or groups send notecards I want to read and busy makes them go into trash and I'd never know about it. I wish they'd change that.
Posted By BloodDoll Lulu
Oct 7, 2008 - 9:52 pm
How have you been?
Posted By Xan_Pixel
Oct 7, 2008 - 9:13 pm
Hey hey! How've you been? :D
Posted By Ozz
Sep 29, 2008 - 11:32 pm

[View All Comments]